News and Videos
Floyd Mayweather Jr. Says He'll Slap 'Punk Ass' Conor McGregor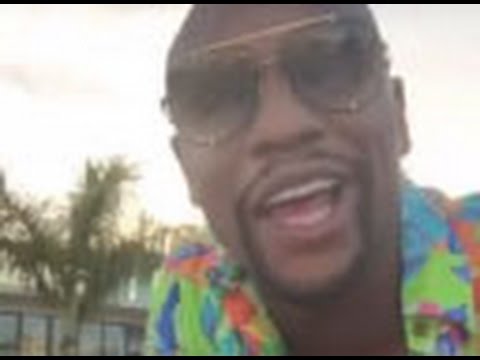 Floyd Mayweather Jr. has vowed to "slap the s--t" out of "punk ass" UFC lightweight titleholder Conor McGregor as the pair continued their war of words over social media.
FightHype released a video of Mayweather's recent Periscope session as the 39-year-old addressed his would-be boxing opponent from poolside in a profanity-filled rant (warning: NSFW language):
The Irish Mirror's Cormac O'Shea provided a partial transcript of the speech, in which Mayweather said: "I'll f--k McGregor up too. That punk ass McGregor. I'm a slap McGregor, I'm a slap the s--t out of McGregor when I see him."
McGregor had his attention fixed elsewhere when TMZ recently caught up with The Notorious as he enjoyed a break following his second-round knockout of former lightweight champion Eddie Alvarez at UFC 205.
MMAFighting.com (h/t Sky Sports) reported at the beginning of December that McGregor had been granted a California boxing license, and upon being quizzed on the matter, he responded: "F--k Floyd. What is Floyd going to do? We're looking for anyone."
Talk of a potential boxing bout between the pair has escalated in recent months, but it faces an uncertain future after the Sun's Barry Moran reported in October that McGregor plans to take a year off to settle down with his girlfriend.
If true, that means Mayweather could be approaching 41 years of age by the time any cross-sport extravaganza is sanctioned, and the UFC aren't likely to be open to the idea of letting their poster child entertain his fantasy.
Mayweather hasn't fought since defeating Andre Berto in September 2015 via unanimous decision to take his record to 49-0, but trainer Freddie Roach told iFL TV a rematch between Money and Manny Pacquiao is possible:
It's in the UFC's best interest to ensure McGregor is fit and ready to fight in the Octagon upon making his return from any planned hiatus, and a sideshow clash against Mayweather would only serve to delay such plans.
UFC President Dana White has done his utmost to derail any talk of a collision between The Notorious and Mayweather, and he recently discussed the matter with UFC Unfiltered (h/t Metro's Coral Barry):
He's not fighting Floyd Mayweather. Floyd Mayweather's not going to fight him, man.
It's never going to happen.
The biggest fight anyone ever talked about at the time was Manny Pacquiao versus Floyd Mayweather. Look how long it took that fight to be made and those guys were in the same sport.
It's true the amount of red tape that would need to be crossed to sanction such a bout is unknown, but one can rest assured the negotiations will be a tremendous ordeal if they ever get underway.
For now, Mayweather and McGregor continue to fling mud in each other's direction, although it seems likely to come to naught as one retired foe aims jibes at another approaching a lengthy spell away from combat sports altogether.
Source: BleacherReport.com via Tom Sunderland